After five months and more than 250,000 COVID-19 vaccine doses into arms, the PDX Red Lot drive-thru clinic closed for the final time on June 19, 2021.
What does it take to operate a drive-thru vaccination site on the edge of the Columbia River Gorge? More than five months since the PDX Red Lot vaccination site first opened on Jan. 21, staff and volunteers experienced the full range of Pacific Northwest weather.
In addition to 3,500 packets of sunscreen and 10,000 hand warmers, the operation was sustained with 1,000 rain ponchos, 3,500 instant coffee packets and more than 2,500 gallons of drinking water.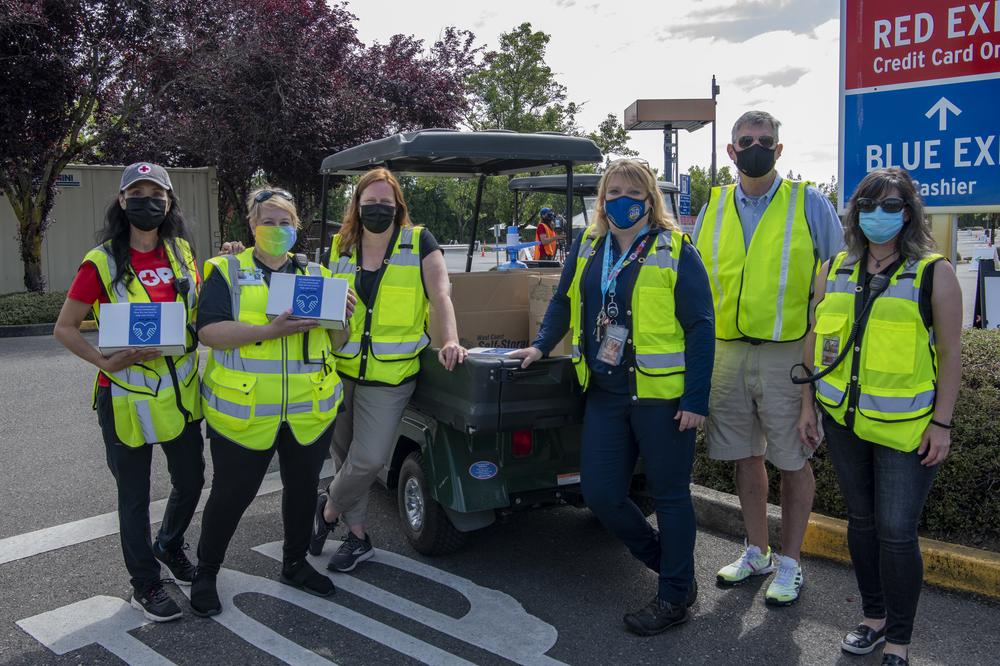 ---
A lot has been written about the project already:
But, most importantly, we'd like to thank all the Port of Portland, OHSU, and Red Cross people who helped make this incredible endeavor possible. Go behind the scenes with us to explore the PDX Red Lot Vaccine Clinic in action and get insights from the Port team that made this all possible.
The early cold days working in the Red Lot were REALLY cold and wet. Sheila Washington procured for us these insulated coveralls (which only came in men's sizes, not really sizing to accommodate women's hips!). Truly, I have never appreciated a piece of clothing more – nor looked like I tumbled out of a clown car in giant pants. Under these coveralls, I would layer long-johns and jeans and – finally – I wasn't freezing.

Kama Simonds
There were lots of cold and rainy days early on. We were all cold and wet but dedicated to the "mission". Every day was fun, even in the worst of it.

Michael Huggins
My most memorable weather moment is when I was working as Incident Commander and Airport Duty Manager Brian Burk called me to let me know that PDX was suspending aircraft fueling because of reported lightening strikes within 5 miles of the airfield.

I gazed around at the big open expanses of space and tall tents with fabric draped over metal structures and thought, "This could be bad." Then I spent the next hour obsessively watching the dark cloud move northwest – away from the parking lot! (We had a lightning plan in place shortly thereafter.)

Kama Simonds
There is not a specific day that stands out for me other than day 1. I was able to get vaccinated for my first shot. I did love seeing Port staff coming through the site. While it was very efficiently run, I was able to say hi and briefly catch up.

Michael Huggins
My favorite memory was on a Sunday PM shift working with Nick Atwell. Everything was going smooth as silk, a well-oiled machine. We'd been directed to begin closing early and were on track for a shutdown in the neighborhood of 6:30 p.m. At approximately 6:15, a young lady from OHSU staff came to Nick and I with the concern she had lost her key fob and was unable to leave since she knew her car wouldn't start.

Unfortunately, her work area covered the entire waiting area. Short story long, Nick and I drove the entire waiting area and adjacent areas. At 7:30, with shutdown now complete and all other personnel gone, I drove her to her car for one last search on the ground around it. Next step would be call for a tow/locksmith and take her to the MAX line.

After a quick look outside, she dug around under the driver's seat and found it. Had we only STARTED our search at the car an hour earlier….. 😊

Pete Peterson
What's a big lesson you learned during this project?
We are family! A group of volunteers and employees from different organizations came together to deliver for the community and in doing so, built a family!

Michael Huggins
Is there a specific moment or day that stands out most to you?
I was working as the Incident Commander one particular morning (prior to opening) when someone from OHSU got on the radio to let us know there was a wolf pup wandering around in the third vaccine tent. It took me a second to comprehend what they were saying because "wolf" just made no sense. A WOLF in the vaccine area??

Of course what they were seeing was a coyote, which is a pretty common site at PDX. I called our Wildlife Team just to let them know and eventually the coyote made its way off the lot. I tried to get a photo hoping to be able to add it to our "Dogs of the PDX POD" Instagram page, but alas, the pup was too quick for my camera. We all spent the rest of the day waiting for the roadrunner to show up, but no such luck.

Jennifer Stacey
---
The Vaccine Process at the Red Lot
The Portland Tribune called the PDX Red Lot vaccine clinic a "Herculean effort" to vaccinate the community. How did we move around 5,000 cars through the clinic every day? The answer is: we learned as we went along!
As Kama Simonds shared, "The days that stand out the most to me are the ones where chaos reigned and we had – and took – the opportunity to learn and improve."
We dealt with traffic backups (onto I-205!), appointment-scheduling snafus that kept staff there until 11:30 p.m., and computer outages that caused 3-hour waits. Each time, we learned from the problem and improved the process.
By the end, we were a well-oiled machine — getting people through before they could finish their morning coffee. Here's what their journey looked like at the Red Lot in our final weeks.
Step 1: Pull into Red Lot
Step 2: Get directed to a waiting lane
Step 3: Check-in at registration
Step 4: Head to a vaccination tent
Step 5: Get your vaccine
Step 6: Head to the monitoring area
Step 7: You're done!
---
Celebrating the Vaccine Clinic
It took thousands of volunteers, a lot of heart, and a ton of coordination to pull off this vaccine clinic.