Something to Smile About in December
Models Show the Future in Miniature
Pssst! Want to see something cool? Before there can be an airport, there must be an airport model. Architectural models are a key tool for studying designs and communicating project visions. So after our first look at the newly unveiled designs for the Portland International Airport, we're now getting a glimpse of the model built by architecture firm ZGF. Check out these behind-the-scenes photos from the ZGF studio.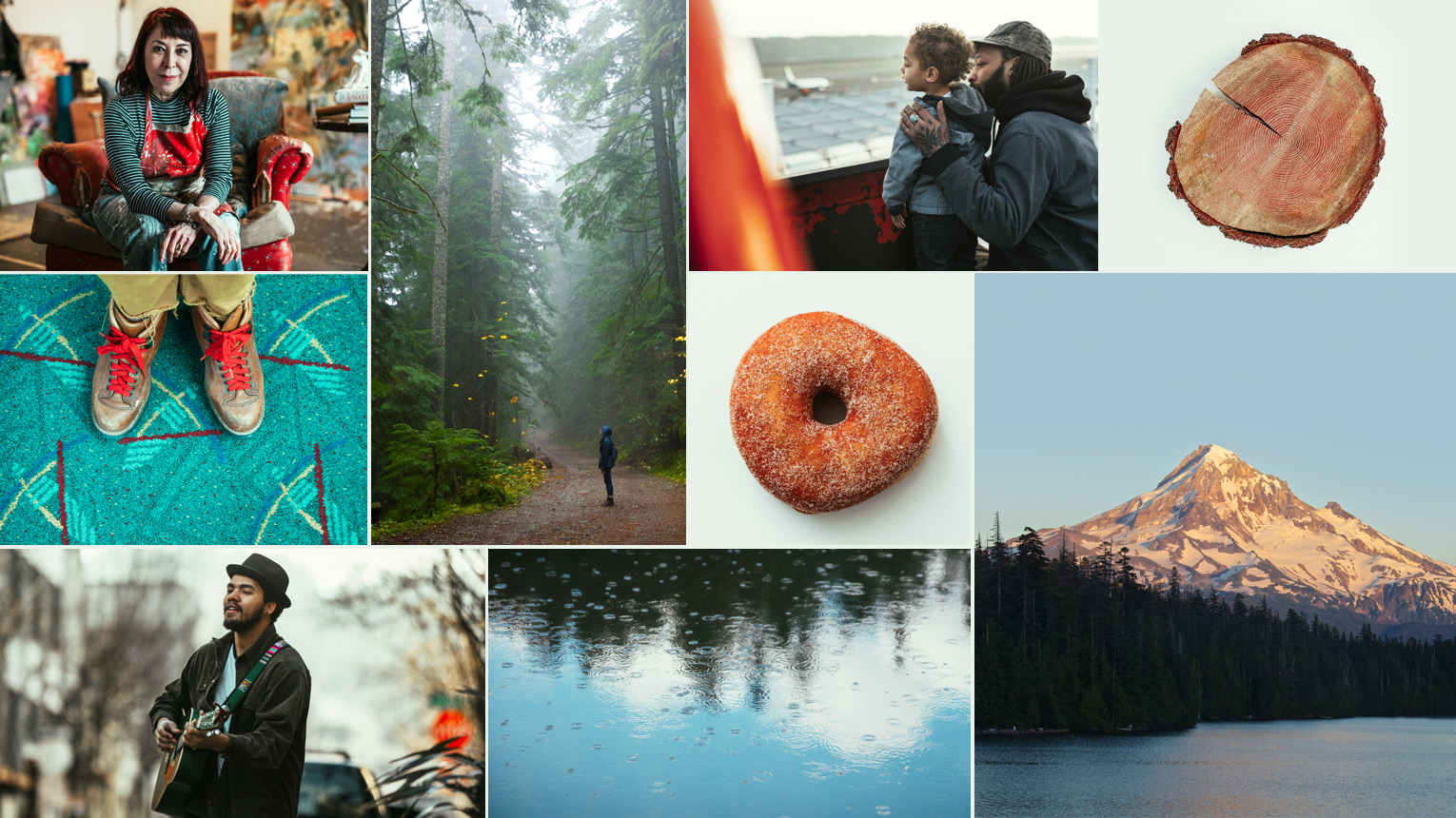 The Regional Love Behind Our New Designs
Even the best rendering can't quite capture the airport's "PDXiness." Yes, that's a cheesy word we made up to describe the sense of pride and local character that we think feels true to PDX. To show you that, we're better off sharing our mood board. So we grabbed a few of our favorite visual references to give you a more intimate glimpse into the people, places and passions inspiring what's next at PDX.
Construction Impacts to Expect
For your safety, do not enter construction areas. To avoid serious injury, never cross a construction rope, barricade or fence to enter a construction site. We don't want you to get hurt!
To help you plan for what's ahead, we are listing construction impacts in order by date. Please keep reading for the biggest change you'll see in the coming months – the closure of the Concourse Connector in January.
Ticket Lobby Construction Now Underway
Construction is beginning on the north and south throats, the passageways that connect the ticket lobby with Clocktower Plaza. The throats will move about 100 feet further to the north and south as we make room for the new terminal footprint. Don't worry – the old throats won't close until the new ones open in April 2021, so you'll always have a clear path to Clocktower Plaza and the security checkpoints.
New Central Receiving and Distribution Center Opens This Month
On Saturday, Dec. 12, the new Central Receiving and Distribution Center will open for business and the existing loading dock will close permanently. After that date, delivery drivers will deliver concessions packages to the Central Receiving and Distribution Center, located at 8975 NE Airport Way Frontage Road.
The new Central Receiving and Distribution Center makes deliveries efficient and easy: Anyone receiving deliveries will have access to a real-time tracking program and products can be delivered directly to storage locations or storefronts – wherever you'd like them dropped off.
Concourse Connector Closed January 5
If you use the Concourse Connector – for work, for breaks or just for convenience – heads up that there are now limited ways to connect between B/C and D/E after the closure on Jan. 5. Additionally, there will be several doors around the Concourse Connector closed on Monday, Dec. 14.
Here's what you need to know about getting around:
If you're on foot, you'll need to exit the concourse and re-enter on the other side, either using the employee lane of the TSA checkpoint or a bypass door, depending on your badge access. In good news, the B/C TSA checkpoint will be open 24/7 starting Friday, Jan. 2, and TSA plans to keep a lane open around the clock on both sides of the airport for employee use.
If you're in a vehicle, service roads will still connect the north and south sides of the airport, but there will be some changes – be on the lookout for those if you drive on the ramp. If you need more information, talk with your manager or email questions to construction@pdxnext.com.
When you're helping passengers, make sure that they carefully check their boarding passes and use the security checkpoint that matches their gate location. If a passenger comes to you with questions about the closure, we put together a helpful FAQ so you know how to respond.
A new concourse connector will open in late 2023 when main terminal construction is complete.
New Indoor Pet Relief Areas Coming Soon
When the Concourse Connector closes on Jan. 5, the existing pet relief area will also close permanently. However, two new pet relief areas will open near Gates C4 and D2. You can direct travelers to these new locations starting on Friday, Jan. 1. As a reminder, we also have one pet relief area outside the terminal near the MAX light rail station.
MAX Red Line Closure Extended Through Feb. 27
The Portland Airport station on the MAX Red Line is closed through Saturday, Feb. 27 as we demolish Concourse A. During this time, there's a PDX shuttle bus running continuously between the Mt. Hood and Portland Airport stations. Please plan to leave about 10 extra minutes for your commute.