Amina Foster's journey to the Port of Portland has the well-placed twists of fate you'd typically expect in an adventure novel.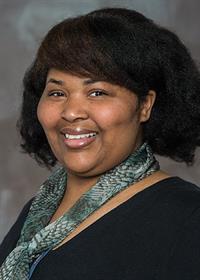 A friendly banker winds up on a food cart tour where a guide casually mentions an exciting new opportunity…and, well, the rest is now Port history.
Tours, interns, mentors, rental cars — you'll just have to read on to find out how our new contracts administrator found her perfect fit!
Can you share a bit about your background and what drew you to apply for an internship at the Port?
My story may be a bit unusual. While my passion over the years has developed into project-based and project-related management, most of my work background is financial.
I spent nine years working at a commercial bank in various positions. I started out as a teller, then I became a branch supervisor responsible for all teller operations (including ATMs), then a customer service banker, and finally I settled into treasury management.
After that, I took a quick detour to pursue art before deciding to go back to school to finish my double-bachelor's degree.  During this time, I worked as a licensed tax practitioner registered with the Internal Revenue Service. I still do intermittent work for a large tax accounting firm during their peak periods.
My introduction to the Port as a potential place to work started last year with a sustainability class at Portland State University. My group and I were investigating the PDX food cart program as a part of a larger project. The concessions development manager took us on a tour with his team and answered our questions. It was wonderful. We gained lots of insight and information about various programs, including waste minimization. At the end of the tour, the manager turned to me and said that the Port was hiring and to keep them in mind. I thanked him and headed back to school with my group.
Fast forward a few months, and I saw a posting for concessions development intern at the Port. Since I'd had such a wonderful time visiting while working on our term project, I cheerfully applied. I felt very lucky to get the position.
What was it about your internship experience that made you want to apply for a full-time position?
Working in concessions development exposed me to a variety of ongoing projects. In particular, I enjoyed doing research for the rental car and services improvement projects. This experience definitely contributed to my interest in a full-time position.
Another contributor has been my mentor at the Project Management Institute, where I am currently pursuing a certification. My mentor told me the Port would be a great place to have the career I'm looking for, where I would gain a wealth of experience and have many opportunities.
I did apply for positions in my old department. While they didn't pan out, when I saw a position available on the ground transportation team, I was excited! I had already learned a bit about ground transportation — which covers commercial vehicle services such as taxi cabs, limousines, valet parking, Uber/Lyft, etc. — when doing rental car research, and I had met many of the staff in the process. I got the position and my team is great. I feel very blessed to be working with such wonderful people!
How have your duties changed since moving from intern to employee? What are your top priorities in your new role?
Since I've graduated and moved from intern to employee, I've gone from property management to contract administration duties.
For example, while I was in properties, I used to go all over the airport snapping pictures and taking notes to verify or determine lease compliance. Right now, some of my job duties are tracking vehicle access and working on the permitting process. It's all very interesting work!
My top priorities in my new role are further bonding with my team and learning all of "the ropes."
Our careers website plays with the idea that "We're not what you'd expect." What can you share about yourself that might surprise your colleagues?
Though I've mainly worked in left-brain oriented fields, I'm a big fan of music and art. I've taken musical instrument lessons and some audio engineering courses in the past. Right now, I'm currently learning digital art and I love it!